Behold, as VAHDAM INDIA, the home-grown, digitally native & global Indian wellness brand, unveils its latest range of Drinkware collection. Sturdiness & style blended fashionably, it is love at first sight and addiction at first possession.
Presenting a world-class range of modern drinkware with ingenious accessories that spell sustainable, comfort and unmatched quality. These ultra-handy and extremely functional drinkware options can keep any beverage, both hot or cold, at the right temperature for hours at end! The perfect replacement for those plastic bottles & easily breakable mugs, this collection is not just a must-have for you but also for the environment as it is eco-friendly, made of stainless steel and is reusable.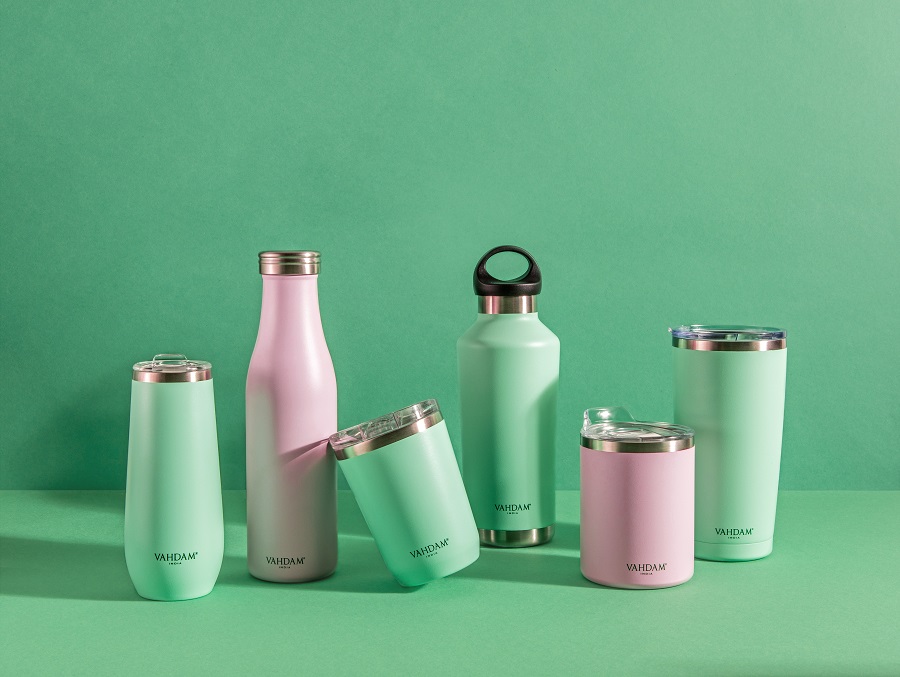 Travel friendly, these multipurpose drinkware choices come in various design forms & sizes of bottles (spill proof), tumblers & mugs; tastefully flaunting curves in 250 ml – 590 ml volume options. Maintaining temperatures of Hot beverages upto 2-3 hours and of cold beverages upto 4-6 hours, the collection echoes superior quality standards. Stylish, versatile and durable, the collection is now available in exciting colours of blush pink and mint green, in addition to yellow, bottle green and black. With its BPA-free body, each offering in this collection has double wall vacuum with zero-condensation technology that makes it the most desirable launch of the year in the drinkware category.