While tourists still flock to the beaches, there's a new wave of travellers seeking deeper, truly Goan culinary experiences—beyond fish curry and King's beer—and a new wave of people willing to provide these.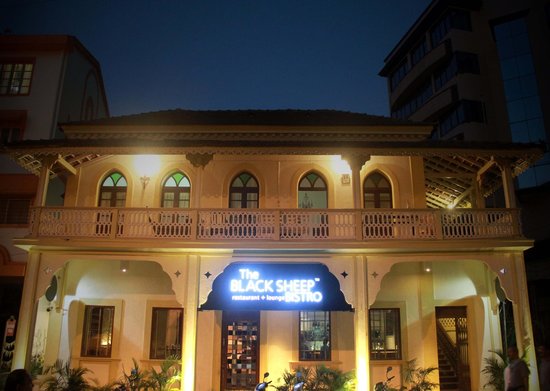 The Black Sheep Bistro, or BSB as the proprietors call it, is an upscale and modern restaurant that features a globally inspired menu. It's one of the few establishments in Panjim (also known as Panaji) that can rightfully call itself farm-to-table: Most of its ingredients are sourced within a 100-mile radius. Menu favorites include clams and Goan chouriço, osso buco, and crabmeat ravioli. Housed in a traditional Portuguese-style building, BSB has an extensive wine list with an internationally trained sommelier to make pairing recommendations. Cocktails are available, too, with wacky names and taglines like "Hakuna Ma Vodka: It means no worries for the rest of your night!" Check out the menu during the monsoon time, when the wet season's produce transforms what is available.
The Black Sheep Bistro, which serves global fare such as crudo nouveau (raw fish with herbs and seasonal greens), lamb osso bucco and Creole chicken—all prepared using locally sourced ingredients.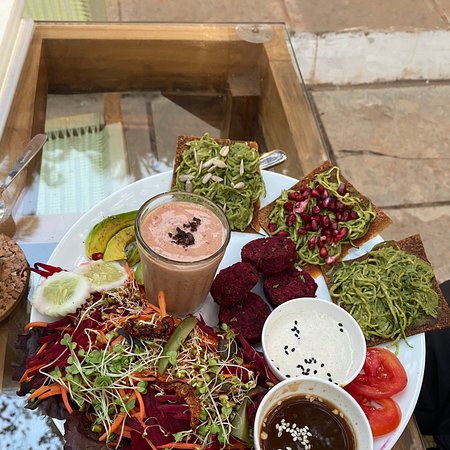 A plant-based restaurant & yoga space which serves healthy, tasty and nutritious food ranging from smoothies, salad, soup & wraps. 
Best vegan cafe that uses seasonal ingredients, also offers western style foods including all-day breakfast, burgers and pastas, nice-cream bowls, power bowls, raw cakes, in-house nut milks, artisan teas and coffees.
The entire dining experience is sublime. It takes culinary genius to offer a menu like they do. Every bite of food and every sip of their drinks reminds us of the incredible potential there is in conscious living. There is nothing more satisfying than a hearty meal that tastes heavenly and leaves the soul unburdened by guilt. 
 They have large & unique variety of vegan options that so succinctly & deliciously serves a diverse variety of local & global folks alike. They have tasty gluten-free options as well and a great value for delicious & healthy food.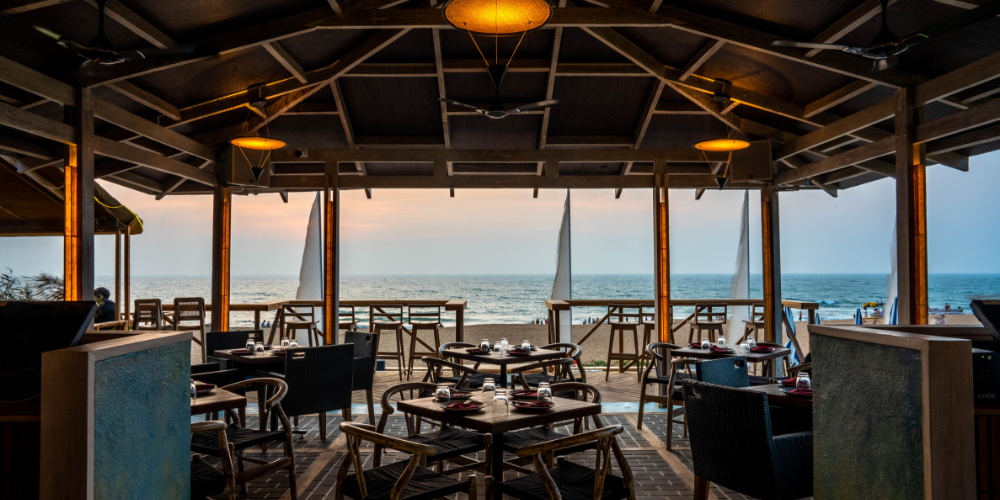 A restaurant on the beachfront is a lure anytime, every time, most would agree. The evening stretched out into moments of inane chatter interspersed with profound philosophical ruminations. Hours spent on the sea face included uninterrupted servings of chicken and prawn dumplings topped with fermented shellfish sauce; carpaccio salmon usuzukuri flavored with emulsified truffle oil and ponzu sauce; avocado sushi; Yazu signature chicken wok-tossed with onions and Goan cashews. The drinks were all tweaked for a fresh take on the classics. So, Yazu Spiced Gin and Tonic is an Asian take on the classic G&T, flavored with star anise and cinnamon; the Upside Down Old Fashioned, a new take on Old Fashioned with Chinese bitters and Demerara sugar: Guava Peri-Peri, a combination of spice and sweet with vodka and a dash of bitters. 
The bar even has a VIP section, right in front of the water that caters to a more personalised experience. An undisturbed lookout offers a breathtaking view of the sunset and a selection of cocktails that match the mood or the changing colours of the sun on its way down as it sinks into the ocean.  
We recommend trying the crispy tempura avocado sushi, turnip cakes and the chocolate soufflé! You can begin with LIIT & Glanco Red wine which is best with its Mesmerizing Flavors and Taste which was accompanied by salt & pepper Chicken. It also serves Authentic and Delicious Asian Thai cuisine.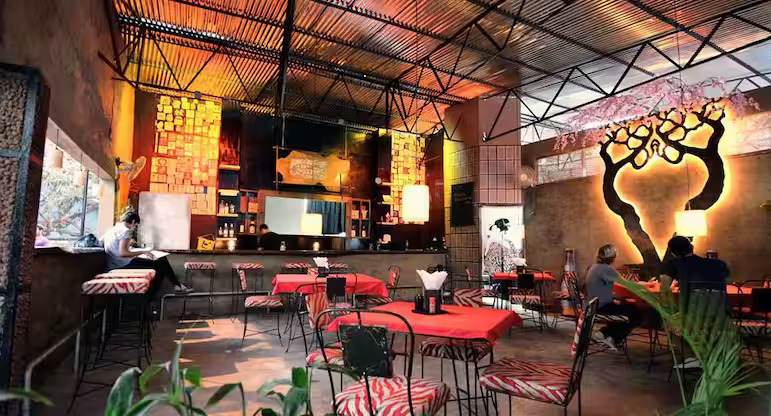 Sakana is a different world in itself, and you have to see it to believe it. The place is designed by an Israeli-Japanese couple Eliko and Mali, who have used Japanese memorabilia to style it as a Japanese inn. Its menu also adds charm to the overall setting, there's heavenly tuna teriyaki, sushi of various shades, udon and ramen, gyoza and tofu dishes, chicken katsu, beef yakiniku and a delicious wakame salad. The mains are also tantalizing, and their massive portion will feed your tummy and soul for the day.
En route the Anjuna Vagator beach belt, Sakana Japanese Cuisine is one of the rare restaurants in Goa that specialises in a single cuisine, Japanese. This is why Sakana is way better than any other restaurant in Goa. Warm yellow light and simplistic décor make the interiors in Sakana soothing and relaxing. The ambiance in Sakana has a very Japanese feel. Sakana serves various Japanese delicacies such as the sushi rolls, sashimi, and salads. Hot Kingfish Sashimi, Lemon Fish Salad, and Salmon Lover Roll are some of the unique dishes at Sakana. For the sweet lovers, Passion fruit chocolate tart is the best option on the menu. One can also enjoy the authentic Japanese tea while waiting for their order to arrive. For people who crave Japanese food, Sakana is an absolute must visit place in Goa.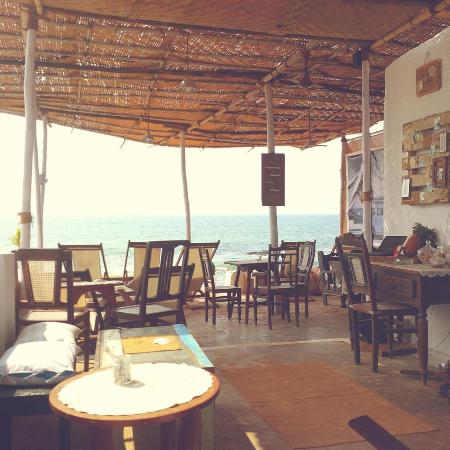 Eva Cafe is a beautiful cafe overlooking Anjuna beach. Perfect for a breakfast bowl or an evening date with some wine and a warm sunset glow, this one's a slice of Greece that'll make you forget you're in Goa. Credit to its location, it even allows you to walk down to the rocks below and dip your toes in sea water. Bliss, right?
To be honest, Eva Cafe has won a jackpot with that spot. The scenic views apart, it's also been done up to look like it belongs in Santorini. Dressed in all-white, with lots of crochet, wooden furniture, deck chairs and an all-out boho vibe, it's an Instagram delight. We love to grab the chairs that overlook the beach and sip coffee for hours. On some days, we even slap on some sunscreen and hit the beach for a languorous walk.

The menu isn't revolutionary but is sweet enough to cater to anyone who's not fussy and willing to give clean eating a shot. You'll find sandwiches, pasta, juices, crepes, muesli, eggs, salads and more. You will like their fresh juices and salads and can feel happy about a mini detox meal after days of binge eating (and drinking, of course).

The presentation of the food is really something here. Call it granny chic or hipster, it's charming to be served with their sweet little flourishes. Even the occasional aroma of roasted garlic from their open kitchen, adds to the homely vibe. One Must Try the amazing Green Shakshuka, and Blue Cheese Salad.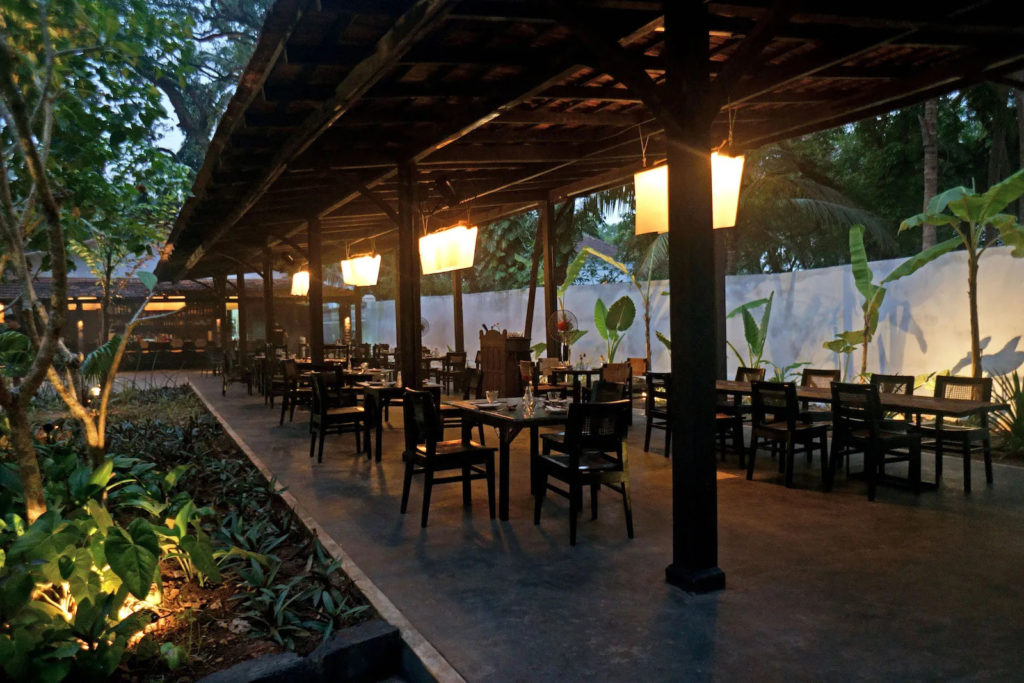 Paper menus printed on simple A4 sheets announce Jap's top hits of the past 16 years. They include the aforementioned tea leaf salad, tiger prawn ceviche, khowsuey, Kachin beef and the smoked pork fried rice. And a dessert dreams of–a perfectly wobbly tender coconut panna cotta encircled by a moat of tangy passion fruit jus; the fruit's seeds providing sudden bits of unexpected crunch. 
The drinks menu highlights several Bomras specials and a few add-ons. On the cocktails list: Rangoon Sour, Mandalay Mango, Rum & Kokam and Tamarind Dukshiri. Then there are three of Goa's stellar homegrown gins that should be on your souvenir list: Greater Than, Stranger & Sons, and recent entrant, Pumori. Plus, two local beers: Susegado English Ale and Eight Finger Eddie.
So, what's the verdict on the food? Truth to be told the experience was a mixed bag. The crackling pork salad crackled in all its crispy glory with sweetness bursting from the pomegranate pearls. The grilled aubergine was ordered twice. And, the sea perch in a lime, chilli, coriander sauce, was spot-on. That tea leaf salad is a miss, as is the soggy tempura. And the panna cotta, while it wobbled well, was robbed of its usual amount of passion fruit jus. You can't miss having the Mandalay Mango and Rum & Kokum at the end. 
Your must try for dinner should be 'Bomra's Special' — vodka-based cocktail with lemongrass and ginger. This is accompanied by 'Pickled Tealeaf Salad' with dried shrimp; blended with a flavorful fish sauce which is both refreshing and stimulating.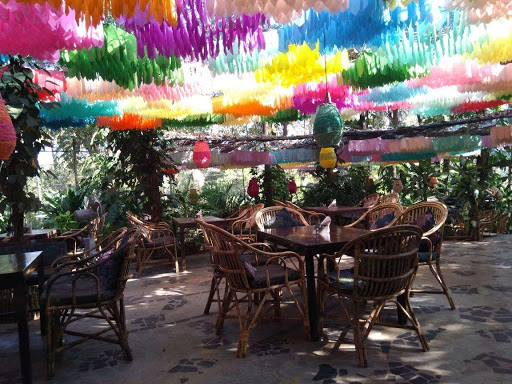 Colourful, modern eatery with garden-style outdoor seating & a menu focused on South Indian cuisine.
One of North Goa's most sought-after restaurants, Gunpowder boasts of a delicious spread of both vegetarian and non-vegetarian delicacies. Housed within the compound of a Portuguese style heritage house, the restaurant shares the space with People Tree, a design collective that lends its own unique quirk to the space.
What Makes Everything! Starting from the ambience, where huge upcycled cloth flowers form the roof above your head while you're seated amidst lush plants and flowers, to the eclectic homegrown cocktails that are a mix of local and curated flavors, to the vibe of the space… Everything has an artistic touch to it. The food maintains the same levels of charisma with sharp South Indian flavours seamlessly mingling with the coastal cuisine. 
The choices are aplenty whether you're a meat-eater or not — being an avid meat eater, I'd recommend the andhra style prawns, the pandhi curry and the Kerela beef fry, though the potato stew is what you can call soul food! Some more must-haves include the appam, the Malabar parotta, and the panna cotta for dessert. Try the sol kadi to work up an appetite for a scrumptious meal, or go for the tamarind-pineapple margarita which is served in an equally interesting copper goblet. At Gunpowder, you will be delightfully spoilt for choice, so our recommendation is to go in a group, though it also makes for a lovely setting for a romantic dinner.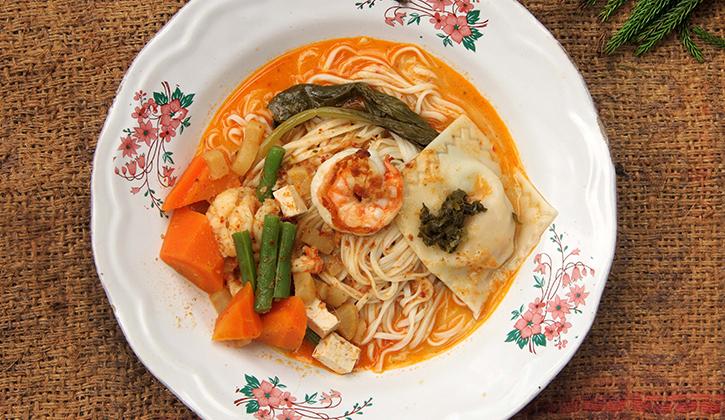 All of us retain the experiences of the foods we have eaten, and they become a part of our being. At the Edible Archives restaurant, they aim to create a collective sensory catalogue that belongs to all the people involved in growing, sourcing, cooking and eating a meal.
Edible Archives is ingredient-driven, in an age of climate change and rapidly depleting biodiversity. They source only the freshest produce, seafood, meats and grains, following seasonal patterns and aiming to increase the quality and variety of local ingredients on our plates. Following the ethos of sustainability, they do not limit themselves to any one cuisine or approach, instead spotlighting traditional ingredients across cultures, growing what we can, and limiting waste as much as possible
Located in Anjuna, behind a jackfruit tree is Edible Archives – a restaurant set in a breezy bungalow that makes all our Sunday brunch dreams come true. This beautiful place is in equal parts a fine-dining restaurant, an organic garden and a knowledge lab. Be rest assured that whatever comes out of their kitchens is a piece of wonder made out of much love and dedication and is totally safe!
Their food is made fresh with all ingredients that are sourced locally and they are sustainability champions. So not only do they offer you the perfect meal but this is a small business with a big heart! 
Their approach towards creating their dishes is 'Ingredient Driven.' Each and every dish uses the best quality ingredients, be it the ripest local fruit or the most perfectly preserved spice. Or even, a fish caught the very same morning, served up in the most flavourful spices. Tempted, already?  
If you are, then be sure to check out their eclectic menu which offers wholesome meal boxes. You can choose from Solo Bento Boxes which contain complete meals for one like the tantalizing Balinese Egg Sambol With Rice, Chicken Katsu with Ginger Rice, Prawn In Chilli wine Sauce And Ginger Rice, etc. They also offer Bao Boxes, orders for which have to be placed one day ahead, comprising the delicious Burger Bao and Dessert Bao. 
You can have a monsoon party with fam by ordering their Family Meals which offer up dishes like Stir-Fried Vegetables In Black Bean Sauce, Fish Curry, Chicken Cafreal, and lots more. And of course, have a date night at home with bae with their Meals For Two, in which you can enjoy a range of small bites, rolls and their flavourful Laksa Curry. Each box is curated thoughtfully and is full of flavours. Home-pickled vegetables nestle in handmade noodles, and different dishes are paired with their own rice varieties, that's just a thing or two about them. Their menu is fresh and seasonal, and they whip up dishes that will satiate your soul. They even do catering for birthday parties and get-togethers. 
A comfort food bistro, set in Margao, The Chikoo Tree Project is known for its Raagi Dosa, pie, thukpa, momos, pasta, fried cheese and kathi rolls.
This is a quaint café / restaurant in Margao (South Goa), you can cycle it down from Planet Hollywood Goaor Park Hyatt Resort as the paths that lead here are so scenic, not to forget the old colourful homes on both sides. Imagine in the midst of heaven, you find your own solace, that special place that re-kindles your best childhood memories through their menu and the interiors. The interiors contain pieces that are designed and crafted by themselves or are the arts of close friends. The drawings hung up on the wall by the cafe owner's son adds up to the gradience of the café. Their menu is what sets them apart. Imagine having a traditional Thukpa or completely made from scratch Ragi Dosa in Goa which reminds you of the dishes that you might have tasted during your travels with family friends that reside in different parts of the country. Their food doesn't taste like the typical restaurant food at all.
 When the goal is to bring healthy, nutritious yet tasty food to travellers and locals that want to experiment with different cuisines with a twist, one cannot go wrong with the idea at all. The Chikoo Tree Projectwas inspired and germinated by the ever-flourishing "Chikoo Tree" that still stands tall in Trupti's grandma's garden. This is what inspired her to take the plunge from a flourishing hotel career to her own café that brings comfort food in the form of LOVE SERVED ON A PLATTER!! This café is as giving just as the fruit of the chikoo tree. 
Try the highly recommended – Ragi Chicken Dosa with Kerala Style Coconut Stew, Hasselback Potatoes which is a grand side dish and you get to choose the filling, Bengali style fish curry with Kasundi onion salad which is the most traditional curry prepared in every household in Kolkata. The Ragi Dosa is fluffy from the outside yet perfectly crispy with every bite that you take.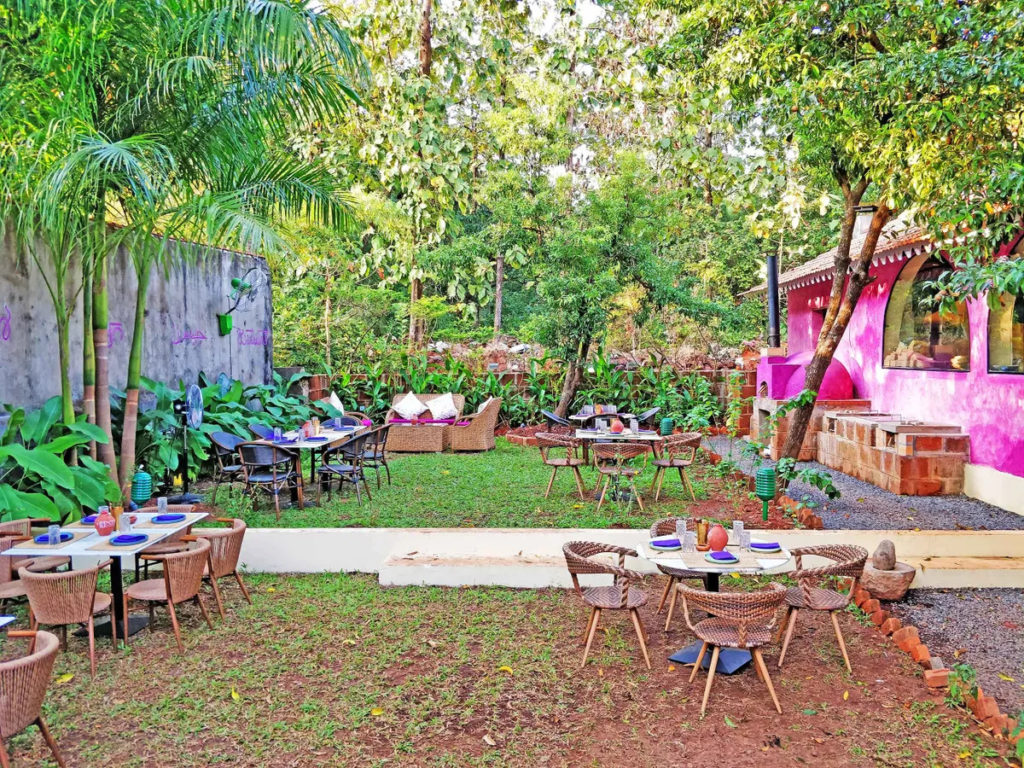 With its telltale purple signboard and flower-adorned walls, it will be ready to feed you palak patta chaat and mutton ghee roast. 
A picture-perfect balcao sets the tone for lunch that one would rather have indoors. One look at the intriguing chandelier made from a collection of garrafaos and a wall that's full of memorabilia from all over India, and you know that the creators dig the little details.
The menu serves nostalgia with a generous dose of culinary innovation because as chef Picu would say, nothing that's not utterly 'feel good and comforting' makes it to Jamun's menu. So you'll find ingredients from Goan kitchens fused with recipes from across Indian states or even both of these unadulterated, making up different parts of the food menu. In an adorable Jamun-type twist, the dishes also have a little story with them written for your reading pleasure; something nice to chew on as you wait for your endless courses.
The proof's in the gravy, they say and Jamun gets a whole bunch of local favourites so right. Think of Stuffed Squids, Pork Chili Fry with Goan Chorizo, Crab Xec Xec and Prawn Pulao, for instance. All these creatures of the sea with their own seasonings and stories are stars in their own right.
If you're an unabashed North Indian at heart, looking for dinner places that'll love you, they've got some favourites from the Delhi menu too (the Inspired Dahi Bhalla from Old Delhi's waiting with Jamun's Butter Chicken). To polish off all the stew, they've got appams, parottas and everyone's favourite, poie. Their vegetarian partners will be happy to find good ol' bharta, kadhi and ker sangri koftas too! In all, it's an impressive Indian regional food spread and we can't think of any foodie who wouldn't want in.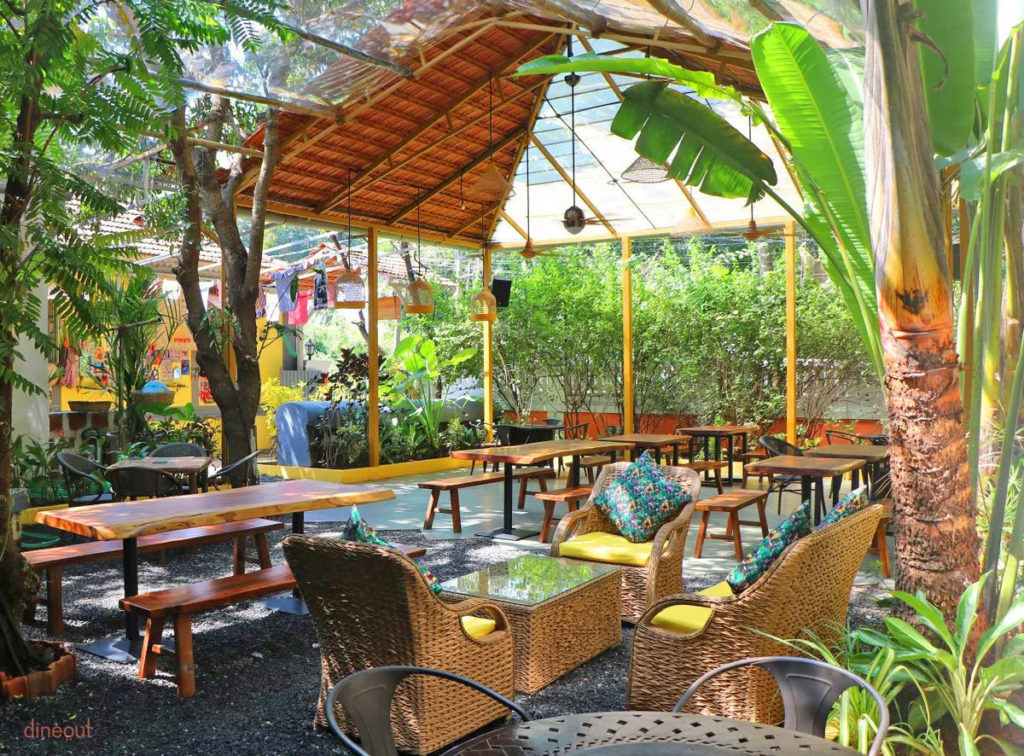 Bringing the spirit and freshly-brewed beer straight from the streets of Hanoi, Ping's Bia Hoi is a Vietnamese beer garden meets Southeast Asian street food haunt in Sangolda. A peppy, kitschy, music-filled garden, this one sits perfectly in chef Picu Gomes' family home and makes possibly the most irresistible Philadelphia Cream Cheese Dim Sums ever. The colourful barber shop kiosk, the clothes lines at the entrance, the flower baskets are a slice of a typical Hanoi market set right in the heart of North Goa. 
 The restaurant's forever bursting with flavours of fresh lime and lemongrass, the food is all about authentic Asian flavours. The rustic, sharp edge to dishes is reminiscent of the joy that street food evokes and the bustling market setting ensures that the Sunday brunches are packed here.
A few visits later, we refuse to budge from our favourites on the menu. These include the Tapioca Pops, perfect with a pint of chilled beer, Philadelphia cream cheese dim sums and Tofu Bao for the vegetarians (there are so many veggie options, including everyone's fave Thai Curry). The non-vegetarian invariably always orders the Sticky Pork Ribs, Pork Char Sui Bai or Miso and Red Chilli Clams.
In keeping with their Delhi reputation, the cocktails here are artisinally ace. They personally dig the Elderflower Spritzer and Gingerbread Martini to sip through balmy, lazy afternoons. For dinner, they often lean towards a Ping's Old Fashioned. If you aren't in for something flowery and sugary, get yourself some freshly brewed beer on tap by Goa Brewing Company, Bira or Arbour Brewing Company, all of who are making special blends on for Ping's beer garden.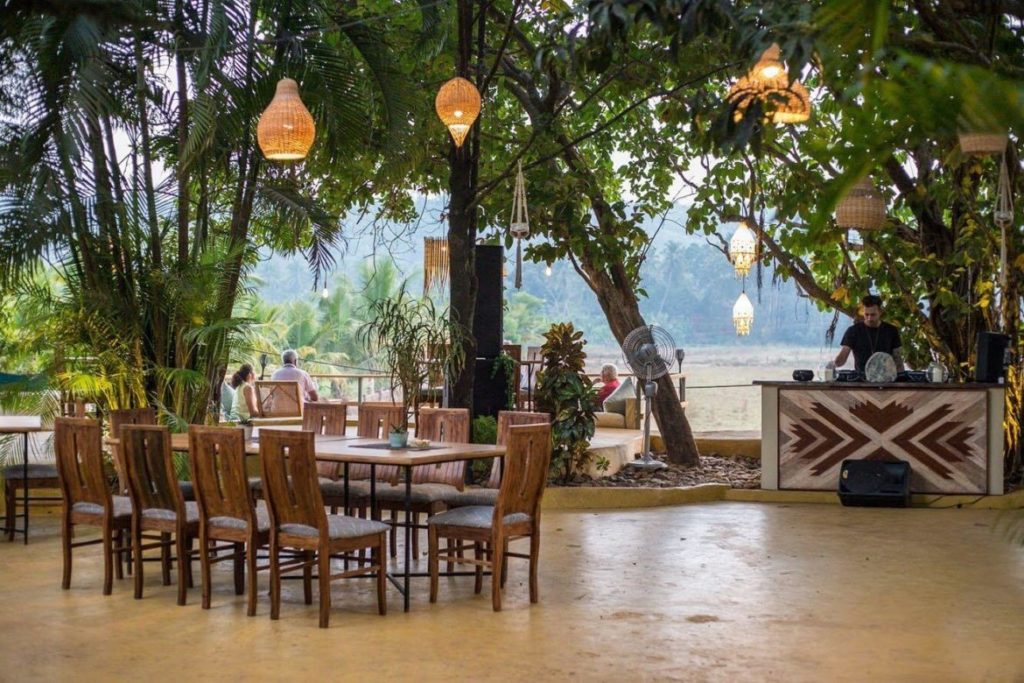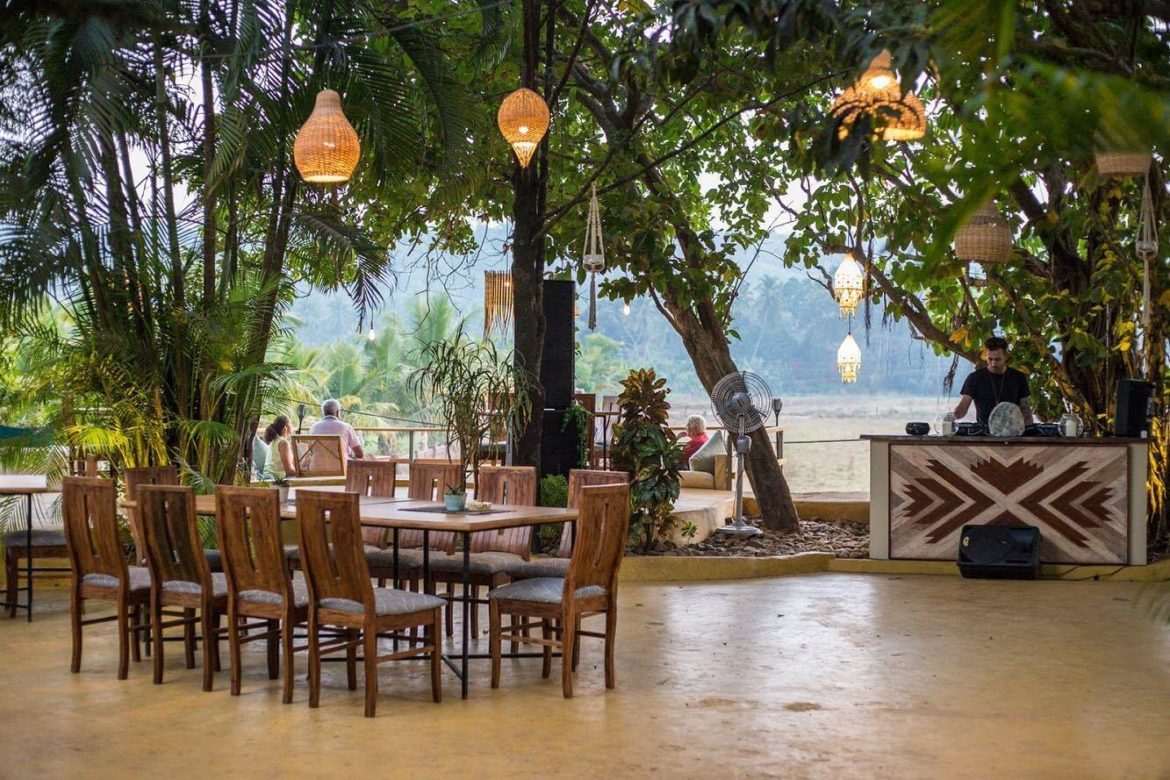 If you're a fan of healthy food, fresh ingredients and smoothies that can cure the worst of hangovers, look no further than Prana Cafe. Tucked away right at the mouth of Vaayu Waterman's Village in Ashwem, it lets you enjoy a panoramic view of white sands and clear blue waters, while sipping on your smoothie or that perfect cup of Sunday morning coffee.
The fact that you never thought healthy food could also be this tasty! The cafe's approach to food can be summed up through its name, 'Prana' inspired by the same sanskrit word meaning life force. Sustainability and healthy living are the key themes the cafe goes by, with Chef Varoon, the main man and a band of dedicated boys from Ladakh, who put the world on your plate by using tropical foods to reimagine global cuisines. 
The cafe promotes the slow and sustainable travel culture, eminent in everything from their decor to their menu — metal straws instead of plastic ones, boycotting plastic bottles and locally sourcing most of their ingredients. The last page of their menu even acknowledges all the suppliers who cater to them with healthy, organic ingredients, including the local poi guy who comes by every morning on his bicycle with the fresh supply of Goa's famous poi bread for the day.
Their menu has some additions for the meat eaters (tuna, beef, choriz and more) but it's really a vegetarian's paradise. Their fresh juices, salads, locally sourced pasta and sandwiches make for a filling, soul-satiating meal. We love their quinoa avocado stack, homemade lemonade and cous cous hummus salad. 
So the next time you're in Ashwem, be sure to drop by Prana Cafe. The cafe also has an in-house art gallery which displays art from local artists, books and board games and is a perfect spot to spend an afternoon with friends. The cafe also houses a small surf shop, and in case you are up for surfing lessons, after your Sunday morning coffee, this is just the place. 
Their live music evenings, workshops and beach clean ups get a lot of nice folks together. Also, their terrace is a great place to watch the sunset.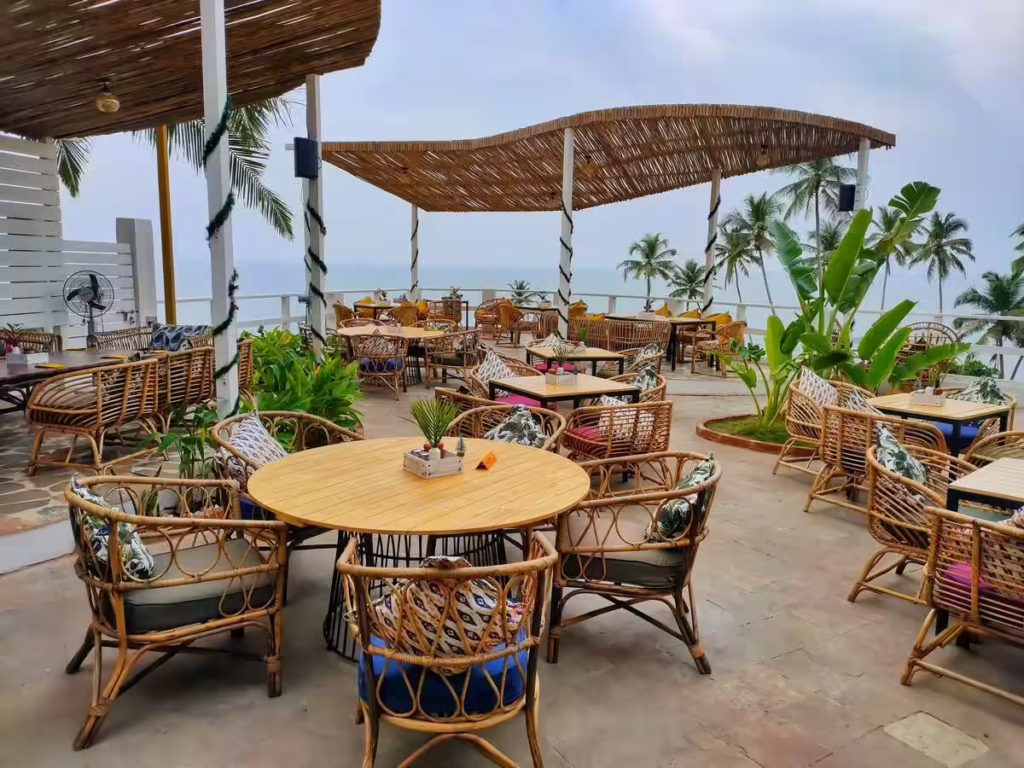 The search for restaurants that changed the food scene completely landed us at Titlie, a new culinary bar that's creating quite a stir. Strategically poised in a way that it overlooks the rolling green hills of Vagator on one side and Ozran beach on the other, we'd rather be here for our regular fill of snapper and steak than anywhere else.
The menu is what the chef likes to call "collaborative cuisine" that marries Indian and international recipes. And why's it called Titlie? Well, because the place goes from being a vibrant beach restaurant in the day to a groovy tapas bar by night. 
Drawing inspiration from Majorda to Saligao, you will absolutely love their Ginger Berry Bush and Saligao Straight (made with Goan mahua). For our next date, we've got our eyes set on the Bloodiest Mary ever and Cocktail De Ponas that combines coconut Feni and papaya pulp. The use of local liquor and the freshest in-house tinctures is something to cheer about.
Coming to the food, there's a pretty exhaustive (and innovative) menu waiting and one visit just doesn't do justice. However, Porcini French Toast with the perfectly balanced sweet and salt made for a clear winner. The homesick North Indian also devoured the stuffed spinach and ricotta kulcha with dal. The meat-eater was biased towards the Chimichurri Goat Boti simply because good mutton in Goa is such a rarity and this dish with the smokey pineapple salsa, was one helluva star. Other recommendations include Garlic butter-poached prawns (delicate coastal flavoured), grilled snapper (flaky, moist and substantial) and pulled pork vindaloo with sauerkraut. If you leave behind your prejudice, there's a refreshing array of salads, a clay oven section (hello, fish tikka with tangerines and peanut butter cottage cheese tikka) and a delectable variety of vegetarian dishes.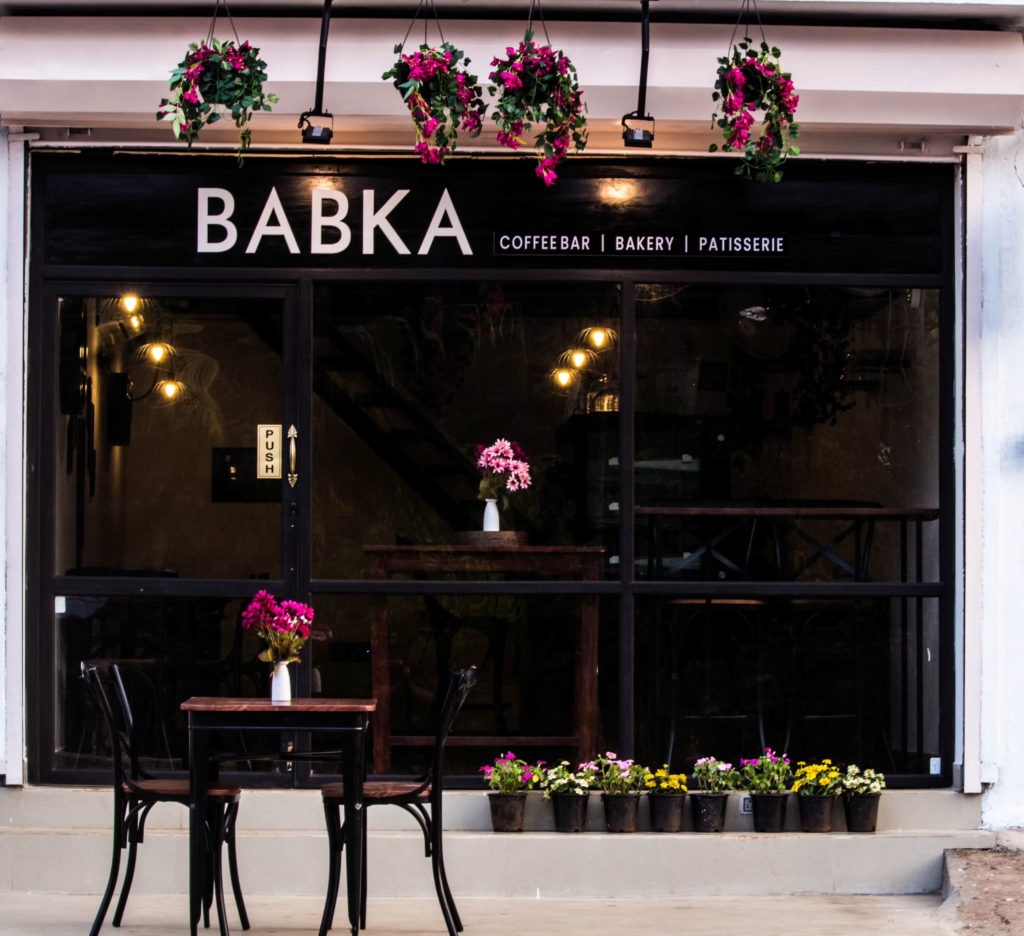 Premium patisserie and bakery in Goa. Babka is an elegant little French café that serves some of the most delicious yet picture-perfect food. Choose from Cakes, pancakes, chipotle sandwiches, healthy options, croissants, Nutella pancakes, banoffee pancakes, mixed berry French toast, French brioche loaves, chocolate babka and lots more. Their coffees and brews
are like a cup of sunshine and will have you feeling like a bubble of joy. This café in Goa will
have your dessert and coffee cravings satisfied.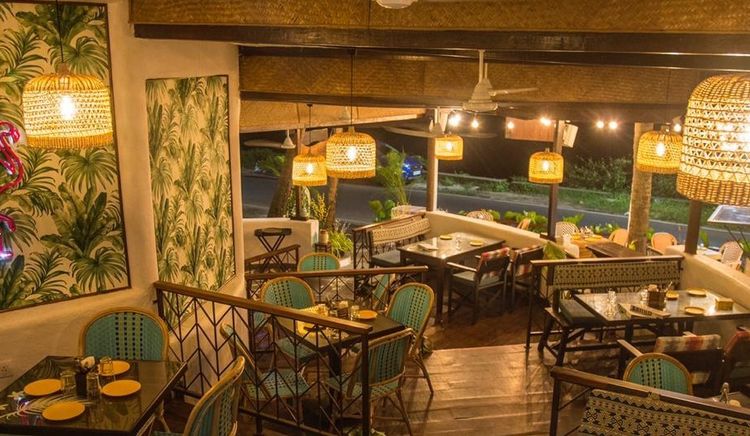 Toro Toro has managed to get one of the prettiest spots and take it to multi-levels (it's got a few levels of seating), with great food, drinks and that stunning river view.
The food here is definitely worth going back for. From an extensive menu of tapas or small plates, you will love the Pulled Pork Bruschetta, Mediterranean Grilled Prawns and the Lamb Koftas with Hummus. If you are a sushi lover, then this is another great place for sushi rolls or nigiri too, but of course with Chef Rohan's delightful surprises, they've managed to do a good job of cottage cheese or tempura veggies filled sushi too.
The Mud Crabs are another thing that shouldn't be missed, with options of the conventional Black Pepper or Butter Garlic, or their own Rechaedo sauce to add that Goan Portuguese zing. From Lobster Thermidor to Peruvian Roast Chicken, the menu even offers Asian cuisine, pizzas, pasta and even Goan food, which means it is a great place to go with the gang and keep everyone happy. 
If you're staying around Baga, Toro Toro is also a great place to hit up for breakfast. With a mix of conventional eggs and sandwiches, they've also got an interesting Goan platter and a whole array of fresh juices. Mutton keema with pao, spinach on toast and English breakfast are other things we dig. Oh, and if you leave without eating their French Toast laden with maple syrup and caramelised apples, you'll only have yourself to blame… It's literally divine.