If you are looking for amazing Instagram pictures, full of beautiful food, great wall art, fantastic lifestyle, as you usually see in famous lifestyle blogs, New York is the place to go. This amazing city gives you the most #instagrammable coffee places. Go and get ready for your best shots!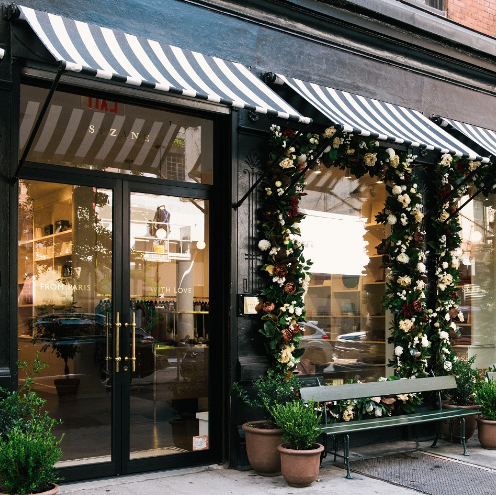 Sézane is an eclectic French fashion and lifestyle store in the heart of Nolita. Whether you will want to go to Sézane for a photo shoot outside or a cup of coffee, you will always have a valid reason. You can also shop there since it is the flagship store of the brand in New York.
Sézane is known because of their super Instagrammable floral decorations outside their store. In traditional French style, there are charming cafe chairs and tables and coffee from Maman. From the tile in the doorway to the coffee cups decorated with the words "Bonjour New York," all these little things come together to make the shop feel authentically French. 
Sézane is a fashion brand known for their very chic, sleek and classic designs, using top quality fabric and incarnating the Parisian chic style. If you are fan of classics and neutrals, the brand is for you. You can stop for a quick coffee or cup of tea, with some pastries or go full out on a charming afternoon tea. The inside is just as cute as the outside, super bright with a lot of natural light. Thus, you have the perfect conditions for a great Instagram photo!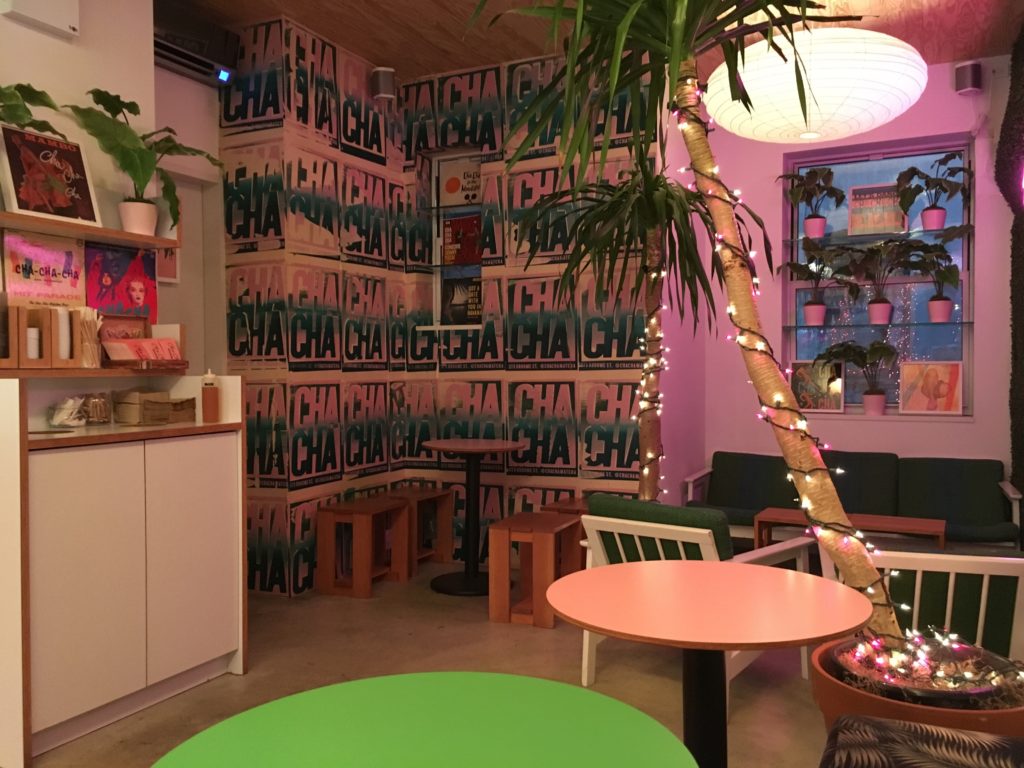 Matcha is one of nature's superfoods. If you like green tea, you will most likely enjoy matcha. It's a very concentrated version of the tea leaf, that provides focus along with calming qualities. Cha Cha Matcha is changing the game and normalizing matcha.
Nestled in NoLita, Cha Cha Matcha offers matcha latte's, lemonades, soft serve, and pastries. The decor is very well done and generates lots of Palm Springs vibes. 
Talking about good matcha lattes, Cha Cha Matcha has some of the best matcha drinks in the city. It also has a pastel pink and green theme going on that's super photogenic. Prepare to line up to get your delicious drink as Cha Cha Matcha is one of the hottest spots for an Instagrammable drink in NYC right now!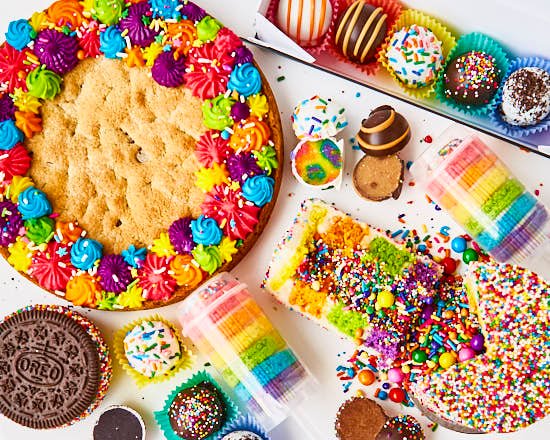 Flour Shop by Amira Kassem was clearly made for Instagram. Not only are their desserts super colourful but their store is also made for Instagrammable shots. Make sure to wear a bright colored outfit to stand out against the rainbow walls!
Flour Shop opened in Manhattan's Soho neighborhood in November. The flagship is decorated in rainbow hues, as are each of the confections. Flour Shop is especially well known for its six-layer rainbow cakes.
The lounge area inside is white from floor to ceiling — that is, except for a giant rainbow that starts on one wall and bleeds across the floor. Above the rainbow is a sign reading 'Sprinkles and Smiles,' as the shop said it wanted there to be 'Instagram around every corner.'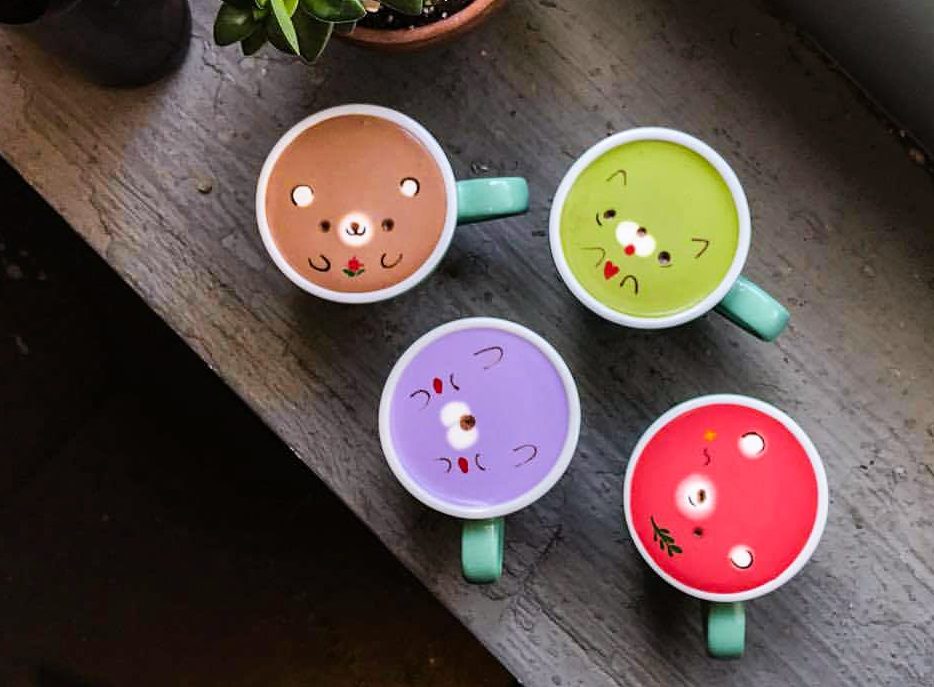 Located in Manhattan's Chinatown, nestled between Little Italy and Soho, Sweet Moment is becoming known for its Creamart or latte art and Korean Bingsoo. Newly opened at the start of 2017, it boasts latte art unlike any other. Bears, snowmen, piglets, puppies, and more grace the top of your mug when you caffeinate at this new NYC dessert café.
Number one most Instagrammable drinks goes to Sweet Moment NYC in Chinatown. The interior at Sweet Moment NYC may not be the most Instagrammable (not a lot of light), but their drinks and food are definitely one of the cutest in New York City! Their special drinks are their signature with pastel colored cream toppings on top of coffee or milk tea. 
The neon light blue sign you see upon entering that reads Sweet Moment sets the mood for the dessert café vibe. The interior is tastefully uncluttered and minimalistic, recalling the quintessential hip New York design. A mix of family-style wooden tables, high top tables, and vibrant light blue and pink tables fill the room. You can tell you've stepped into a unique Asian café.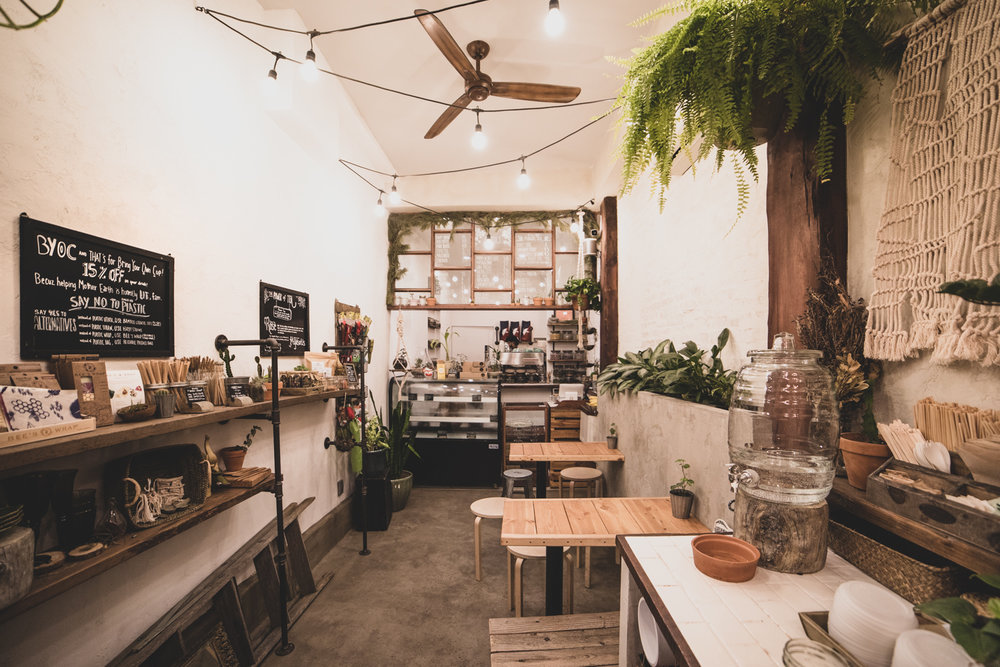 Urban Backyard is a small, rustic coffee shop in SoHo.  Delicious coffee, tea and speciality drinks as well as desserts.  They're known for their mini succulent cupcakes the coffee is great as well. You have to try the macarons and bite-size cupcakes! One of the most Instagrammable coffee shops in New York City, this spot features an amazing menu item called "the Everything croissant." 
Committed to environmental and social responsibility, Urban Backyard brings the outdoors inside for weary New Yorkers and tourists alike. Sip on their sustainably sourced coffee while snapping photos on their tiny front patio, complete with plants and vintage furnishings. To encourage more plant love and less waste they have a "Take a Pot, Leave a Pot" bin in front of the shop..
You could easily pass by this cafe in New York but you'll be happy if you don't! Cozy up on the couch or take it to go.