Vietnam is a destination for rawness, rich culture, spectacular scenery and also very crowded. So here's everything you can do to skip the usual touristy activities 
Explore the French Village in Ba Na Hills. 
Ba Na Hills began as a hill station and resort made by the French in 1919. Ba Na was stumbled upon by a French captain named Debay who was looking for a suitable site to build a resort. After that, the colonial government invested heavily in the place, turning it into a top holiday destination.  
Upon arriving at Ba Na Hills visitors are greeted by a lovely village of bridges, statues, and water features meant to replicate the town of Hoi An. Ba Na is renowned for its Swiss-based cable system, which is recognized as "one of the ten most impressive cable systems in the world. The design of the cable car is simple and quick to take visitors to the top safely, quickly and can be overwhelmed by beautiful scenery.
People usually do a day trip from Da Nang but I highly recommend you to stay over there to feel the French culture in town. The place gets crowded once the day trip tours start coming in. So if you plan to stay then you must stay at Mercure Danang French Village Bana Hills to be able to enjoy this place for no distractions. This amazing hotel creates the image of a picturesque French village amidst the clouds of Ba Na mountain, providing guests with the perfect resort facilities. 
Designed in Gothic architecture typical of France from the 19th century with meticulously carved domes, ancient bee bricks, or poetic windows. I loved the French space with the typical romantic beauty of Europe. From the outside,  Mercure Danang French Village Bana Hills is like a romantic castle; inside is impressed by its luxurious and comfortable design. You can pamper and indulge yourself with a visit to the massage, hot tub, salon, steam room, spa, and sauna facilities.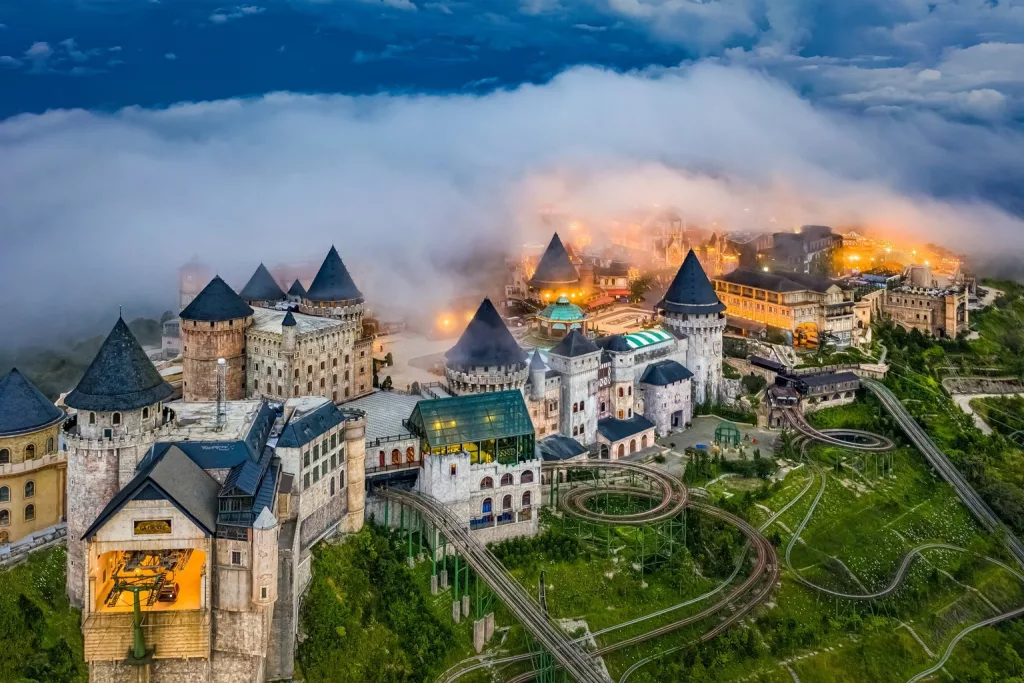 Try local coffees like coconut, egg, salt, Vietnamese, yogurt and weasel coffee in Hanoi 
Compared to Ho Chi Minh City, Hanoi continues to try to retain the traditional Vietnamese culture in every corner of the city and so you will have a more authentic feel during your stay. You will fall in love with its rich history, traditional cuisine, and vibrant life force. From its bustling day life to its lively nightlife, Hanoi offers a variety of activities and experiences for any traveler.
Hanoi's coffee culture, like much of its old charm, is connected to the legacy of French colonialism. 
For many Hanoians, the most important element of a coffee shop is not the luxury but the quality of the product. Elderly people like old cafes, located on old streets or in deep alleys. Office workers love coffee shops with romantic and quiet style like in Hanoi's Old Quarter. Millennials like the noisy, vibrant atmosphere of modern and luxurious cafes or terraces. 
Four standard coffee drinks that all cafés serve are ca phe den nong (hot black coffee), ca phe den da (iced black coffee), ca phe sua nong (hot coffee with milk), and ca phe sua da (iced coffee with milk). Besides these, coffee is also served with curd, coconut milk, eggs and as smoothies with banana and avocado. Yogurt coffee even comes with toppings of fresh fruits like mango or fermented rice.  
I decided to stay with Grand Mercure in Hanoi which is centrally located. Throughout the hotel, the skill of local artisans is also on display. The rooms are contemporary and spacious with a Vietnamese touch in every corner. Grand Mercure Hanoi houses four restaurants and bars with originally curated culinary concepts, comprising four diverse culinary and social venues; LỘC-ALLY, Cat Vi, Van's lobby lounge, VIVU Rooftop Sky Bar. The hotel also has a unique glass-sided rooftop pool and a well equipped fitness center. Their Spa offers wellness based on time-honored Vietnamese techniques.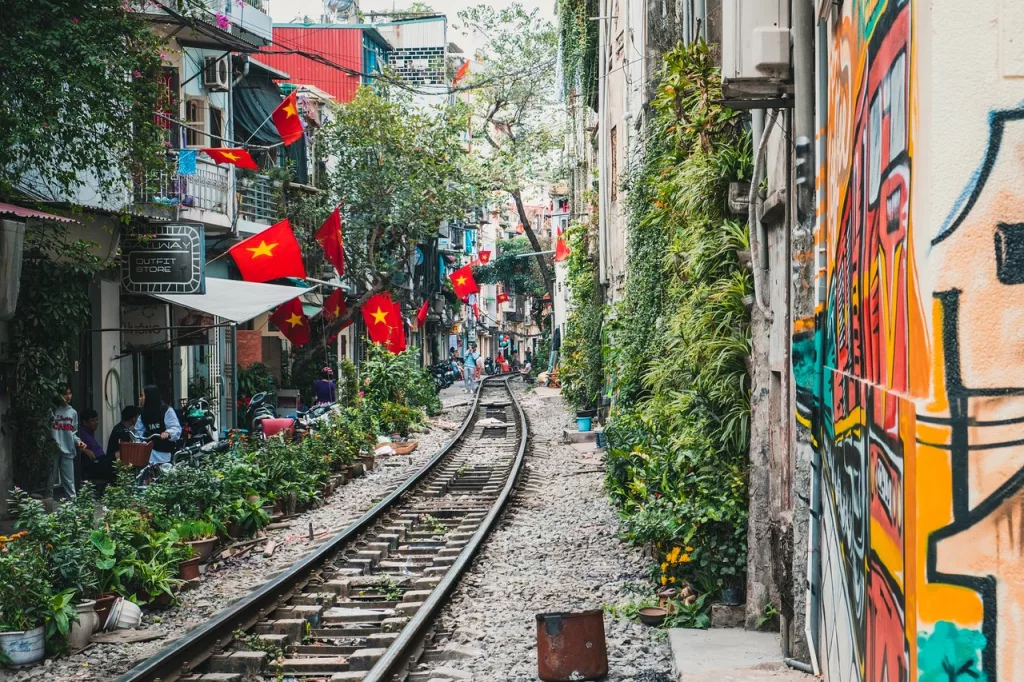 Hoi an – a Japanese Ancient Town in Vietnam. 
Hoi An Ancient Town,  used to be an important international trading port in Vietnam in the 16th century. Today, it is one of the famous destinations and cannot be missed on the tourist world map. This destination is also a rare place where a unique blend of Vietnamese, Chinese and Japanese architecture can be found. You won't find any street lights here, lanterns light up this town every night. 
We decided to stay with Hotel Royal Hoi An – MGallery during our stay. The best part staying in the hotel? It  has two buildings. One is modern architecture and the other is ancient Vietnamese architecture. The hotel is a blend of historic charm and modern touches, sophisticated style inspired by New Art with a touch of Japanese flair and Vietnamese Cultures. The 7 story structure is an architectural masterpiece and the people from French owned Accor, have done an admirable job softening it up and lending it some colour and class. It offers breathtaking river and old town views. You can enjoy breathtaking panoramic views of Hoi An and Thu Bon River from The highest rooftop bar in town.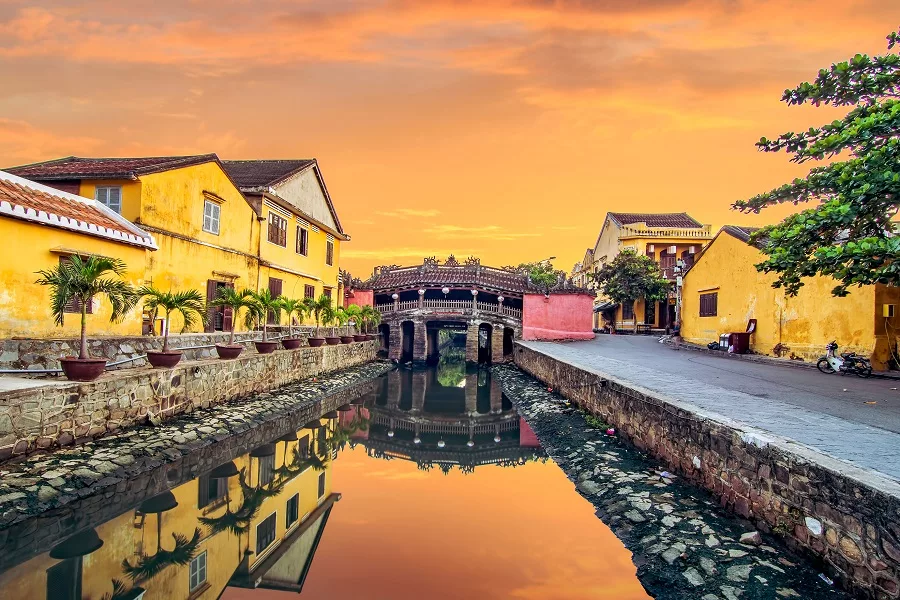 Skip Ha long bay, head to Cat Ba Islands 
We decided to skip Ha Long Bay because it is very touristy and rather headed to Cat Ba Islands to do something offbeat. 
Cat Ba Island is the largest island in the Cat Ba archipelago, consisting of a total of 367 islands. With majestic limestone mountains, golden sandy beaches and countless interesting activities, Cat Ba has always been a favorite destination for foreign tourists. 
 There is a wide variety of caves of all sizes and shapes. Kayaking is highly recommended if you want to explore every corner of Lan Ha bay. The whole route includes many exciting destinations such as a floating fish farm, three tunnel lagoons, and secluded beaches. Cat Ba Island is a perfect getaway for a peaceful and fun-filled vacation.