Koh Lanta's iconic five-star island retreat will fan the flames of romance for international guests this February, with a deeply personal seven-night Valentine's package that includes an island excursion, couple's massage and daily beachfront bubbly & oysters
Pimalai Resort & Spa, the natural five-star retreat on the tropical Thai island of Koh Lanta, is inviting couples to escape to paradise this Valentine's Day with a perfect package that is sure to fan the flames of romance.
Nestled within 100 acres of lush jungle, cascading gently down to a 900-metre stretch of pure white sand at Kantiang Bay, Pimalai sets the stage for romantic getaways that are deeply personal and private. Guests can stay in a choice of luxurious rooms, suites and pool villas, all of which promise complete seclusion. With balconies and terraces that overlook the verdant forest and azure Andaman Sea, love is sure to blossom at Pimalai.
Under the "Love Comes Naturally" package, couples can enjoy an extended escape in this haven of tranquility and indulge in a series of indulgent activities, including soothing spa therapies, island excursions and blissful beachfront dining experiences.
International guests who book a minimum of seven nights at Pimalai this February can avail a one-hour aromatic couple's massage at the award-winning Pimalai Spa, and a dreamy day trip to the idyllic islets of Mu Ko Lanta National Park, with plenty of time for swimming, snorkelling and chilling out on empty beaches. The "Koh Haa Sunset" tour transports visitors to a gorgeous group of limestone karsts that enclose a turquoise lagoon, with opportunities to take romantic photos on the boat, while the "Fabulous Koh Rok" adventure lets travellers unwind at a pair of pristine islands and snap fantastic photos on the powder-soft sands.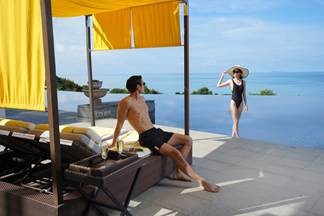 Love comes naturally at Pimalai, where the azure infinity pool blends seamlessly with the cerulean sea
Back at the resort, couples can take part in complimentary water sports such as kayaking, windsurfing and paddle-boarding, or hire bicycles to explore the local area. Then as the sun sets over the ocean, guests can settle back and enjoy an unforgettable "Oysters and Bubbles" experience, with a private table set up by the beach and a sublime selection of imported oysters and sparkling wine. Available every evening from 17.30 to 19.30 hrs, this is a wonderful way to end each day in paradise.
Rates for the seven-night stay start from THB 78,770 for a Deluxe Room, THB 103,740 for a Bayfront Deluxe Room, THB 119,605 for a One Bedroom Pavilion Suite with Garden View, THB 143,480 for a One Bedroom Beachside Pavilion Suite, THB 146,170 for a One Bedroom Beachside Villa, or THB 168,700 for a One Bedroom Hillside Ocean View Private Pool Villa.
"Pimalai is a wonderfully romantic destination. Our timeless blend of seclusion, serenity and sustainability has always been popular with guests who want to get away from the outside world and unwind in privacy. As Valentine's Day approaches, we want to give all couples the opportunity to spend quality time together, with no distractions. We hope that our selection of exclusive experiences will help couples grow closer together and create memories that last a lifetime," said Charintip Tiyaphorn, Owner Representative of Pimalai Resort & Spa.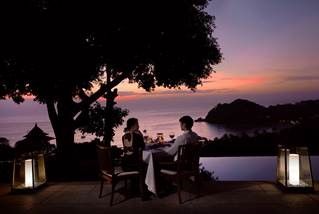 Pimalai is one of only 26 properties worldwide to form part of Small Luxury Hotels of the World's (SLH) Considerate Collection, a community of socially responsible and environmentally conscious luxury hotels. With its breath-taking natural setting and dedication to delivering world-class guest experiences, it is little surprise that Pimalai was named as the second-best resort in Southeast Asia in Travel + Leisure's annual "World's Best Awards", which honour the finest travel experiences on the planet.
The One Bedroom Hillside Ocean View Villa sets the stage for romantic escapes, with a private pool and panoramic views
Pimalai's "Love Comes Naturally" package is available for bookings from now and for stays in February 2022. To book, please email reservation@pimalai.com or call +66 (0) 2 320 5500.
Please check the latest entry conditions here.
For more information about Pimalai Resort & Spa and to book your Valentine's vacation in paradise, please visit pimalai.com.