For Kim Jones' debut ready-to-wear collection for the house, FENDI introduces the FENDI First: an iconic new chapter in accessories that draws on the house's heritage while evolving it into the future.
Reimagining the form of a cantilevered heel first presented in Spring/Summer 2000, for the new season an architectural mule adopts an inverted FENDI "F" as its very foundation – an homage to the house's instinctive alignment of form and function. Balancing graphic minimalism and refined luxury, the shoe is realized in a range of fabrics from glossy leather to clouds of fluffy shearling or rose-tinted mink, each elevated by a golden metallic heel.
The FENDI First bag translates the concept into a covetable new accessory, tilting the house monogram into the frame of a soft clutch. Distinct yet discreet, it explores the off-kilter irreverence of the brand through the lens of modernity. Appearing in myriad variations – formed from soft nappa leather, python, fur, shearling and Karligraphy-monogrammed flannel – it is available in two sizes: medium, designed to fit the everyday essential,andsmall. Each isequipped with a detachable, adjustable shoulder strap, ensuring a wealth of wearability.
Through a series of must-have accessories, FENDI First succinctly reflects Jones' vision for the house: entirely contemporary, but conceived in tribute to its storied history and savoir-faire. This is extraordinary Italian elegance, as seen from a new perspective.
Ready To Wear Autumn/Winter 2021
Kim Jones' Ready To Wear Autumn/Winter 2021 collection for FENDI offers a new chapter for the house, presented through an homage to its key codes and the women who have enshrined its legacy. Drawing upon the femininity and savoir-faire which have long defined the FENDI name, this is a celebration of extraordinary Italian elegance as seen from a new perspective.
The wardrobes of the five Fendi sisters offer a foundational resource: from the bell sleeves of a washed mink and bonded suede coat, to the pinstripes of their office attire now rendered in silken shirting or perfectly proportioned wool tailoring. A utilitarian shirt jacket, inspired by Silvia Venturini Fendi's daily uniform, is elevated into a newly luxurious, shearling iteration with a bonded mink interior.  "The Fendi family are women of intellect who work hard – and that's what I wanted to celebrate," notes Jones. "A powerful dynasty."
Double cashmere and camel outerwear which extends into mink tricot or wool-fringed scarves appears at once profoundly practical and deeply desirable, its form elsewhere translated into draped shirts and dresses. "I'm taking the amazing, strong women who I both know and work with, and listening to their needs," Jones continues. "There's a usefulness to the collection, explored in a chic, timeless way."
Details drawn from Karl Lagerfeld's legacy – the understated omnipresence of the Karligraphy monogram, or the FENDI First shoe whose architectural heel has evolved from an archival sketch – are reworked for a new era, while motifs from Jones' Couture collection are reprised through marbled silk dresses, rosette blooms or delicate organza embroideries on jacquard knits.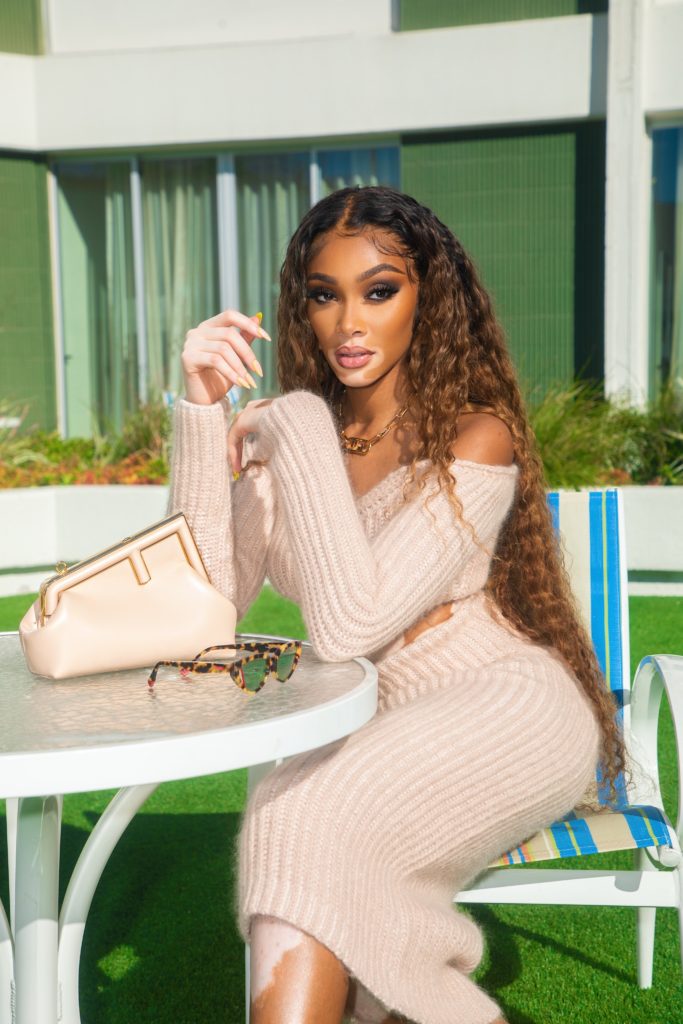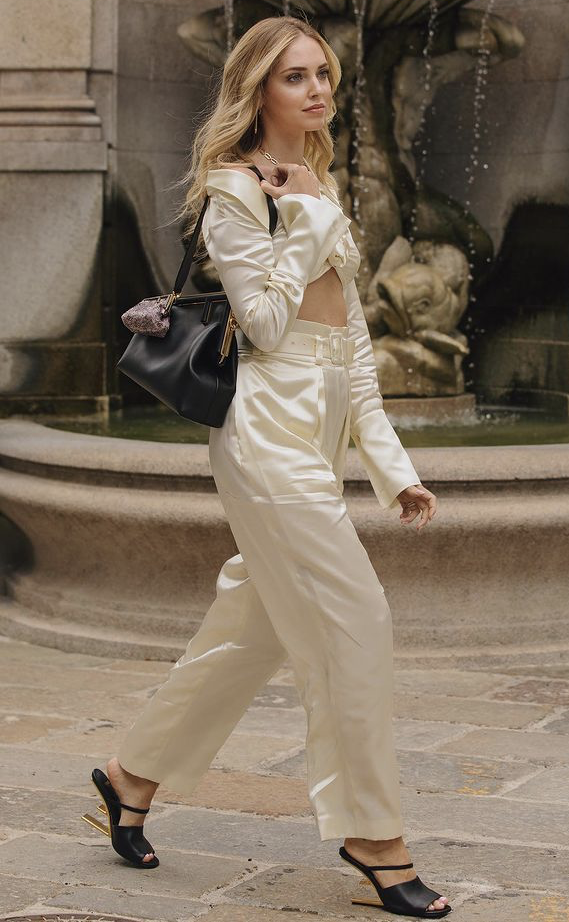 The remarkable craftsmanship of the FENDI ateliers remains omnipresent throughout – in a mink herringbone jacket made featherlight through its suspended construction, leather suiting inset with ajour embroidery, or Karligraphy monograms laser cut into suede. The embossed Selleria stitching applied to gabardine trenches, double cashmere coats or leather accessories is a tribute to that meticulous exceptionalism – a quality most visible to the women who will wear the clothes. "Fun isn't always just about bright colours," says Jones. "It can be about really luxurious self indulgence, which pleases the person wearing it more than anyone else."
This is a collection designed with those women in mind: clothing which translates everyday femininity into hyper-luxurious terrain.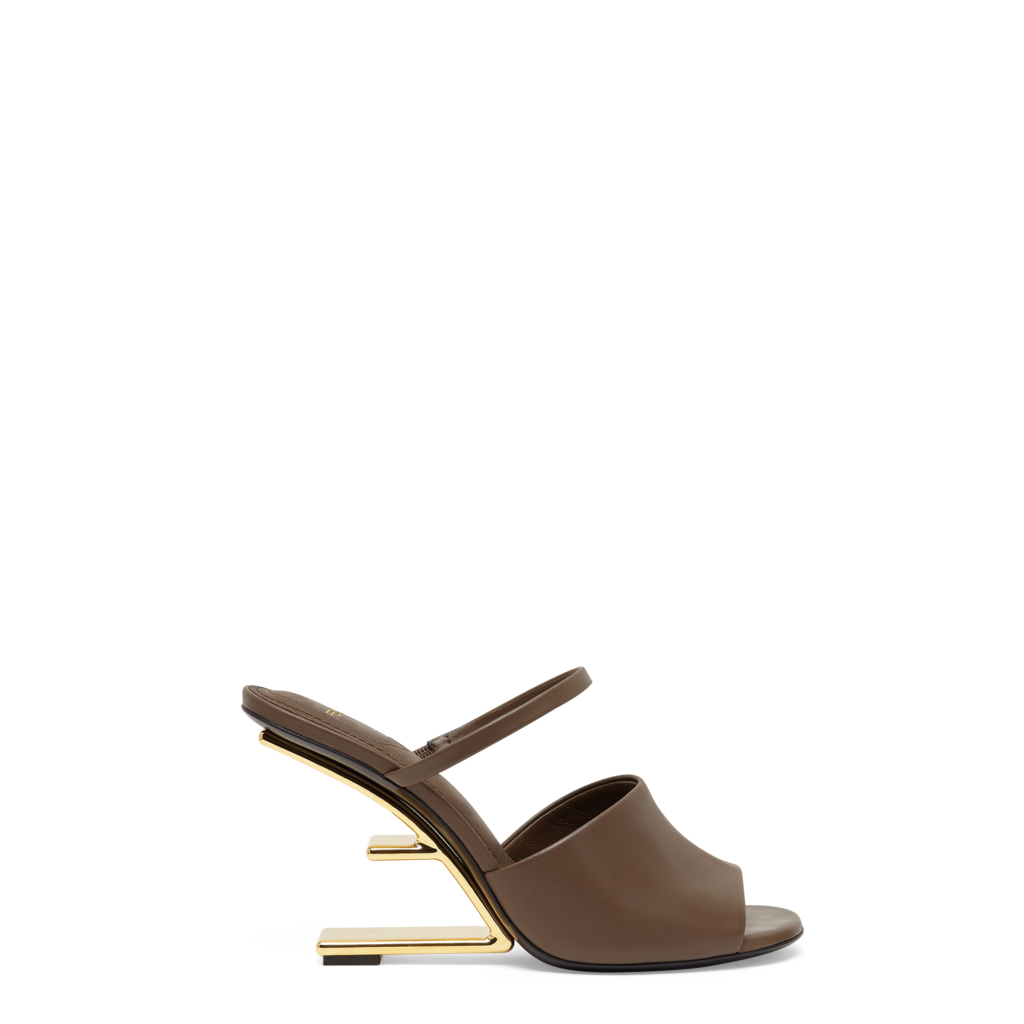 Alongside the collection appears a wealth of new accessories for a new chapter, directed by Silvia Venturini Fendi. The debut of the FENDI First, which pays homage to the off-kilter irreverence of the brand, tilts the FENDI monogram into the frame of a clutch and is presented in myriad variations: from a size roomy enough to fit a tablet to a micro pouch strung as jewellery, and is rendered in shearling, leather, and exotics.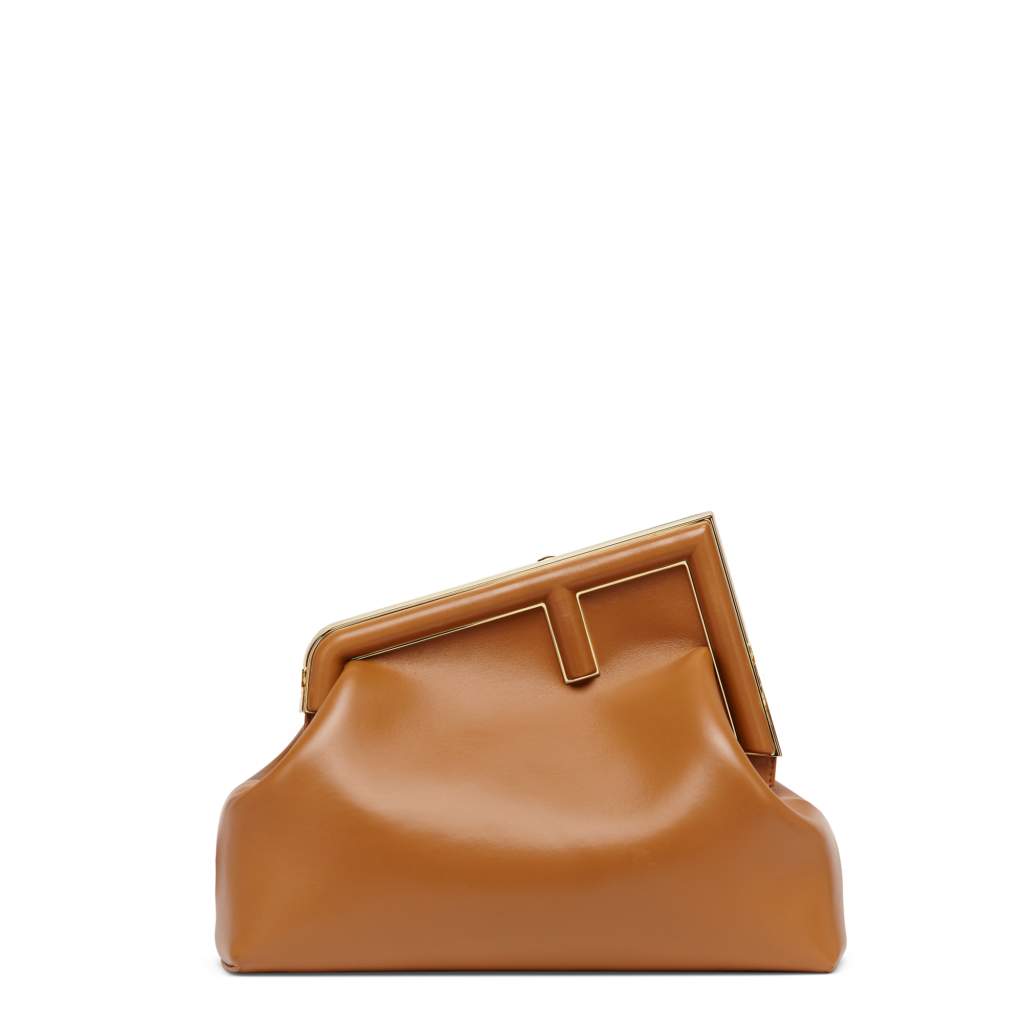 Elsewhere, new silhouettes are presented through the FENDI Way tote and FENDI Touch shoulder bag, while classics like the Peekaboo and Sunshine Shopper are seen from a new perspective, distorted into new proportions and decorated with Selleria details.
This season, the FENDI hand in hand project – which enlists craftspeople from each of Italy's 20 regions to reimagine the iconic Baguette – translates Campania's artisanal excellence into a limited-edition series of objects d'art. Here the same, intricate wood inlays found in 6th century Benedictine monasteries become a veneered, structured Baguette with a baroque floral motif.
Delfina Delettrez Fendi introduces a new jewellery range for the house, FENDI O'Lock, which evolves the FENDI logo into graphic modernity through its carabineer form, and comes complete with padlocks that can only be opened by dialing FENDI. Wax seal pendants stamped with Karligraphy are strung from golden chains, and metal cuffs, covered in leather and embellished with Selleria details, directly reflect the empowered sensibility of the FENDI woman.